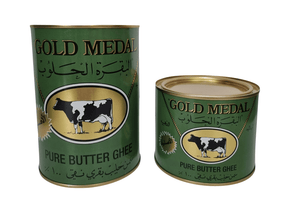 Gold Medal Pure Butter Ghee
Regular price
$12.00
$0.00
Unit price
per
Tax included.
Product of Netherlands
Pure butter ghee with 99.8% milk fat
Halal certified
Tin lid design to ensure proper storage after opening
Available Size: 400g & 800g

It is made by heating butter to separate the milk solids and water, leaving behind a rich, golden liquid with a nutty flavor and a high smoke point.

Ghee has a long shelf life and is often used in cooking and frying because it does not burn easily.



Gold Medal Ghee is known for its rich, creamy texture and its distinct aroma and flavor. It is commonly used for cooking for frying, sautéing, and as a spread.



---