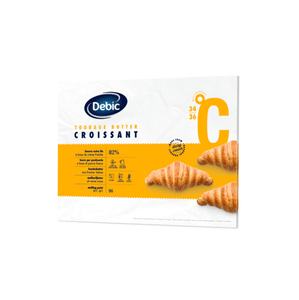 Debic Unsalted Butter Sheet
Regular price
$41.00
$0.00
Unit price
per
Tax included.
Product of Netherlands
Butter 82% milk fat 
Lactic Butter
Halal Certified
Highly flexible and easy to laminate

Size: 2kg



Debic Butter Sheet is a semi-hard butter that comes in a sheet form, which makes it convenient for use in a variety of recipes, including croissants, puff pastries, and other baked goods.

Debic Butter Sheet is made from high-quality cream that is churned to produce a smooth and creamy texture. It is then shaped into a sheet form, which makes it easy to work with in the kitchen. The butter has a rich, buttery flavor that is perfect for enhancing the taste and texture of baked goods.

One of the benefits of Debic Butter Sheet is that it has a high-fat content, which makes it ideal for creating flaky and crispy pastries. It also contains no added preservatives or artificial flavors, making it a natural and wholesome choice.

It is a great choice for anyone who wants to create delicious and flaky pastries with a rich, buttery taste.



---