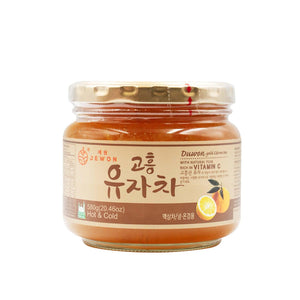 Duwon Gold Citron Tea (Yuzu) 580g
Regular price
$8.10
$0.00
Unit price
per
Tax included.
Product of Korea
Brand: Jewon
Available sizes: 580g
Halal certified
To make tea: Stir and dissolve one or two spoons of gold citron tea into one cup of water 

Citron tea is a sweet and tangy beverage made from a citrus fruit called yuzu. Yuzu is a type of Japanese citrus fruit that is also popular in Korea and other parts of Asia. The fruit has a distinctive tart flavor that is similar to a combination of lemon, lime, and grapefruit.

Citron tea is often consumed for its health benefits, as it is high in vitamin C and antioxidants. It is also believed to help with digestion and boost the immune system. In Korean culture, citron tea is often served as a soothing drink to help relieve cold and flu symptoms.

It is a refreshing and flavorful drink that can be enjoyed any time of year.

---