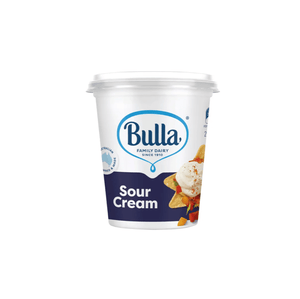 Bulla Sour Cream Full Fat 35.8%
Regular price
$5.00
$0.00
Unit price
per
Tax included.
Product of Australia
Size available: 200ml , 400ml
35.8g Fat, 100g serving

Kept at 4 degrees

 

Check with us for the latest expiry date

Bulla Sour Cream has a tangy flavor and a thick, creamy texture.
It is a full-fat version of sour cream. 

Sour Cream is a versatile ingredient commonly used as a topping.
It can also be used as a base for dips and dressings or as an ingredient in baked goods such as cakes and muffins, or whenever a recipe calls for it. 



---