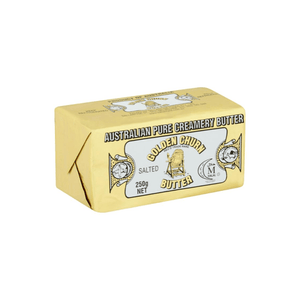 Golden Churn Salted Butter (Block)
Regular price
$5.80
$0.00
Unit price
per
Tax included.
Product of Australia
Available sizes: 250g per piece (loose)
                        60 x 250g (carton)
Halal Certified

Golden Churn butter is made from high-quality fresh cream that is carefully churned to create a smooth and creamy texture. The butter has a distinctive golden color, which comes from the beta-carotene in the milk of cows that graze on fresh, green grass.

Golden Churned Butter has a rich, buttery flavor that is perfect for use in a wide range of recipes. It can be used for baking, cooking, or simply spreading on toast. The butter has a slightly sweet taste and a smooth, velvety texture that makes it a popular choice for many people.



---