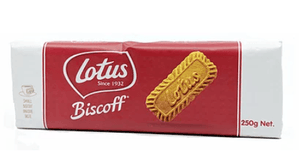 Lotus Biscoff (Whole Biscuits)
Regular price
$4.90
$0.00
Unit price
per
Tax included.
Product of Belgium
Available sizes: 250g

Halal Certified



Lotus Biscoff biscuits are a type of spiced shortcrust biscuit that originated in Belgium. They are made with a unique blend of cinnamon and other spices, which give them their distinctive flavor.

The biscuits are known for their crisp texture and caramelized flavor, which comes from the caramelization of the sugar during baking. They are often enjoyed with a cup of tea or coffee, and are also used in a variety of desserts and baked goods.

They are also used as an ingredient in many recipes, such as cheesecakes, cupcakes, and ice cream.

---