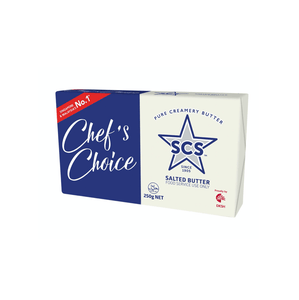 SCS Salted Butter
Regular price
$4.30
$0.00
Unit price
per
Tax included.
Product of New Zealand
Available sizes: 250g per piece (loose)
                           40 x 250g (carton)


Sweet Cream Butter
Halal Certified



SCS Unsalted butter is made from high-quality fresh cream that is carefully churned to create a smooth and creamy texture. SCS Unsalted Butter is a great option for people who prefer the pure, natural taste of unsalted butter.





SCS Unsalted Butter is a versatile ingredient that can be used in a variety of recipes, from baking to cooking. It is particularly popular for baking cakes, cookies, and other pastries, as it adds a rich, buttery flavor that enhances the taste and texture of baked goods.





Overall, SCS Unsalted Butter is a high-quality and versatile ingredient that is ideal for use in a wide range of recipes. Whether you're baking butter cake, or cookie, or simply spreading it on your kaya toast, SCS Unsalted Butter is a delicious and wholesome choice.



---