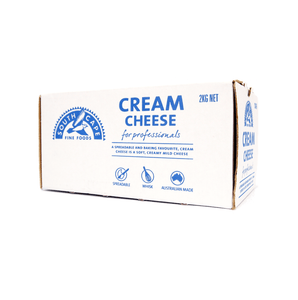 South Cape Cream Cheese
Regular price
$26.80
$0.00
Unit price
per
Tax included.
Product of Australia
Available sizes: 2kg

Do not freeze
Once opened, kept chilled and consumed within seven days
Kept at 4 to 8 degrees
33% Fat
Halal Certified

South Cape Cream Cheese is made by an Australian company that specializes in gourmet cheeses. It is made from high-quality Australian milk and cream, which is pasteurized and then mixed with lactic acid to create a smooth and creamy texture.

South Cape Cream Cheese has a mild and slightly tangy flavor, which makes it a versatile ingredient that can be used in a variety of sweet and savory dishes.

---